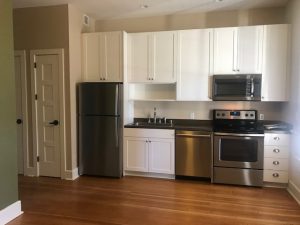 Fort Vancouver National Site/Officers Row
This email is to inform everyone on the courtesy list that a residential one bedroom unit in the West Barracks will be available November 1.
This one bedroom unit is in the newly renovated Infantry Building and is 483 sq ft. This first floor unit has lots of storage in the kitchen and bathroom. It comes with a stackable washer and dryer. The monthly rent is $1,175.00. Water, sewer and garbage is an additional $40.00 per person. Tenant is responsible for electric and any internet billing.
This building is a pet free building. No pets allowed. Please email me if you have interest or questions. There are many people on the courtesy list, so a commitment will be made first-come, first-serve. Showings are by appointment only
FOR MORE INFORMATION, PLEASE CONTACT KRISTINA OVIATT
kristina.oviatt@thehistorictrust.org
360-992-1807